EDIT MAIN
Wellness Committee
The Granby Public Schools Wellness Committee monitors the implementation of the District's Student Nutrition and Physical Activity policy. The committee evaluates district progress, serves as a resource to schools, and recommends revisions to district policy as needed. The Wellness Committee largely serves in an advisory capacity that will meet on a quarterly basis throughout the school year. The Wellness Committee will involve parents, students, school administration, members of the School Food Authority, and other district personnel as needed. The committee will work to communicate and plan programming that will support a proactive approach to lifelong wellness.
---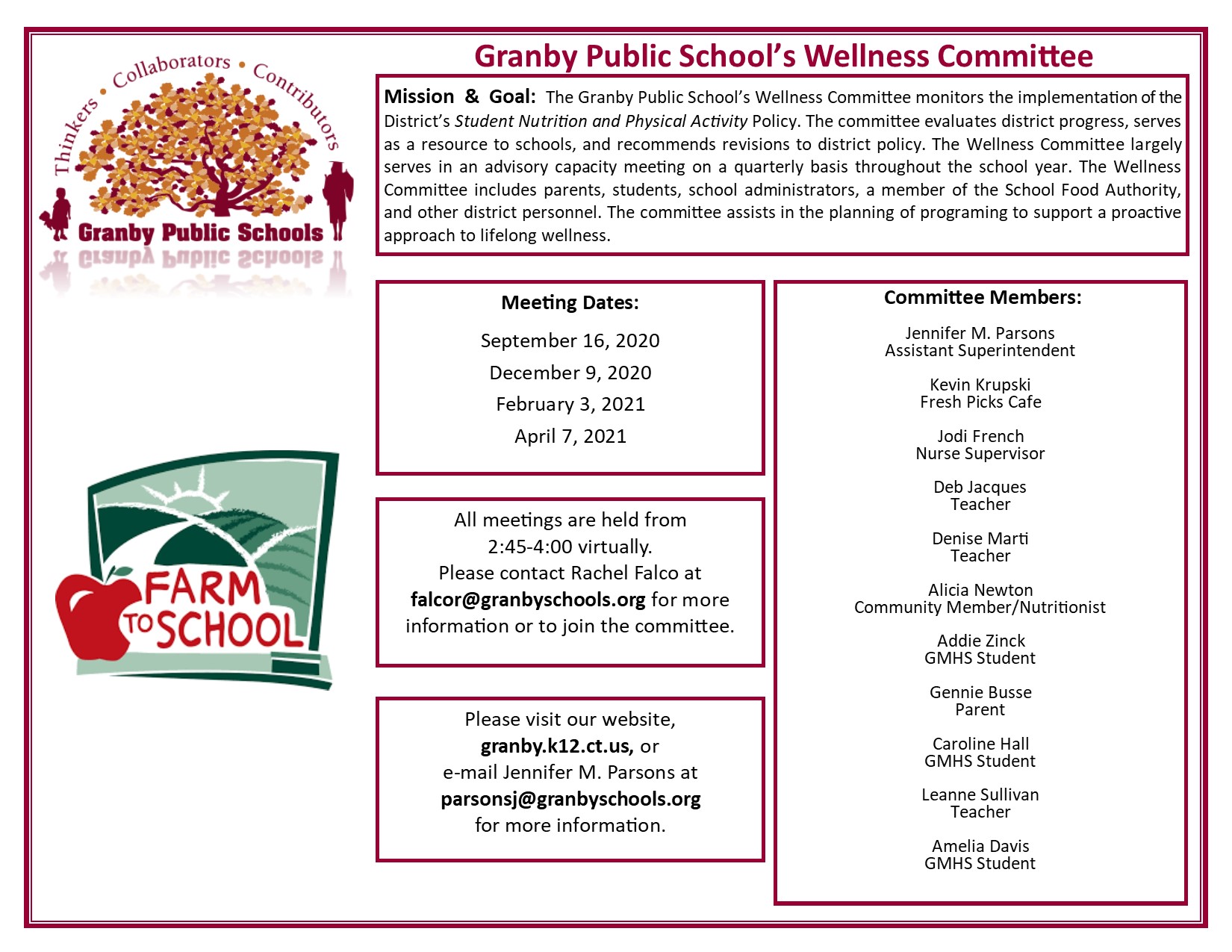 ---
Farm to School Grant
In the spring of 2018, Granby received a federal Farm to School grant from the United States Department of Agriculture. This competitive grant program award funds to organizations with innovative ideas and plans to educate students about food sourcing and access.
The objectives of the Farm to School grant in Granby include completing a feasibility study to plan for use of school gardens within the district, develop curricula in the areas of science, wellness, and family and consumer sciences to support use of school gardens, and to develop strategic partnerships with local farms within the community and region. The grant funding also includes the building of a pilot garden that is currently under construction behind Granby Memorial Middle School.
As the build of the garden nears its end, plans for new curricula are underway so students will have access to our new outdoor classroom this spring. Additionally, the district Wellness committee continues to offer thoughts and ideas to manage and utilize the garden over the summer months when production will be at its peak.
The district was fortunate to partner with Christina Beebe as our garden designer and contractor for the project. Chris's expertise and collaborative nature brought quality, safety, and fun to this big project. As the garden is put to use this spring, Chris will continue to provide consult and support to bring the garden to life for our school community.